|
Residential
|
Commercial
|
Builders
|
Community
|
|
|
Businesses and organizations who construct and certify qualified energy- and water-efficient new buildings under the Leadership in Energy and Environmental Design (LEED) standards can earn incentives from an MLGW grant to the U.S. Green Building Council-Tennessee Chapter.

The MLGW/USGBC LEED Incentive increases awareness and adoption of energy-efficient and environmentally responsible construction practices in local commercial facilities. MLGW funded the grant in 2008, when there were no LEED projects in Shelby County; today, there are scores of buildings benefiting from the energy, water and environmental measures incorporated to attain LEED designation.
To apply for these funds, qualified project teams must submit an application, along with the project's Final LEED Scorecard and detailed Review, and an educational document highlighting the project's sustainable attributes to the USGBC Tennessee chapter.

LEED Incentive Eligibility Requirements
Project must be located in the MLGW service territory (Shelby County, TN).

Project must achieve LEED Certified, Silver, Gold, or Platinum certification.

Project must utilize LEED for New Construction, LEED for Core & Shell, or LEED for Commercial Interiors Rating Systems, Version 2009 or later.

Project must achieve the minimum specified points in energy and water categories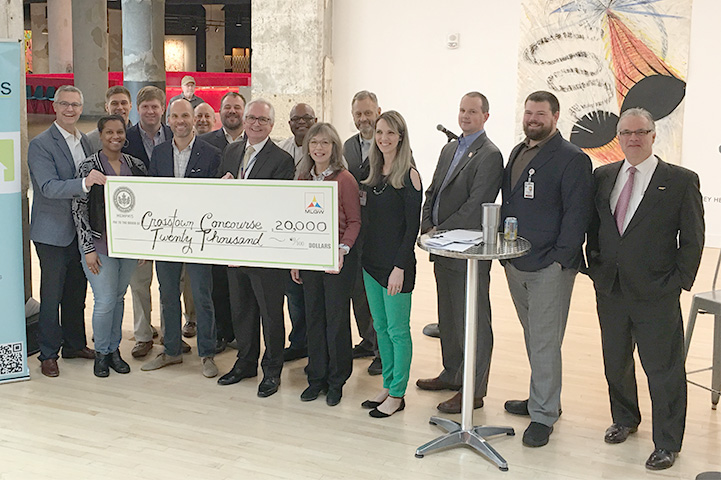 Previous MLGW LEED Incentive Recipients
Eleven local green building projects have received incentives funded by the MLGW/USGBC LEED Incentive, although there are many more
LEED designated buildings
in Shelby County.
These buildings and their owners, architects and construction teams are all leaders in commercial green building in Shelby County:
Independent Bank, 2009, LEED Silver. i-Bank's 2,485-square-foot branch on Poplar Avenue in Germantown became the first LEED-recognized building in Shelby County. Based on building size and LEED Silver status, the project earned a $10,000 award.

Big River Engineering & Manufacturing, 2010, LEED Silver. Big River turned a 1950s building shell on Fourth Street, which previously served as a horse stable for the Memphis Police Department, into an energy-efficient, high-tech medical instrument manufacturing facility designed to use 20% less energy and 40% less water. This project was the third LEED-recognized building in Shelby County. The project earned LEED Silver and a $10,000 award. Learn more.

Court Square Annex 2, 2011, LEED Gold. The five-story, mixed-use building filled the void in Court Square Center created by the 2006 fire that leveled the existing structure. In addition to many energy, water and environmental measures, the project was able to divert 99% of the demolition rubble and construction remnants from landfills. Court Square Annex 2 was the first LEED Gold building in Shelby County and earned a $15,000 award.

FedEx Family House, 2012, LEED Gold. This 33,850-square-foot building provides accommodations for out-of-town families with a child being treated at LeBonheur. FedEx Family House was designed and built to use 23% less energy and 44% less water. The project earned a $15,000 award for its LEED Gold status.
Methodist LeBonheur Healthcare, 2012, LEED Gold. This 208,000-square-foot hospital expansion on the Germantown campus houses the Women's and Children's Pavilion. With substantial reductions in energy and water use among its many green attributes, the project earned a $25,000 award for its LEED Gold certification.

Smith & Nephew Innovation Center, 2013, LEED Gold. This 60,817-square-foot build-out of an unoccupied wing of the Smith & Nephew building houses the new Innovation Center, where medical professionals learn about new technologies and techniques, including demonstrations of surgical procedures in an operating room setting. The building features advanced HVAC equipment that has been commissioned for optimal performance, EnergyStar equipment and appliances, and long-term tracking of energy use, plus consumes 40% less water. The project earned LEED Gold and a $10,000 award.

NovaCopy, 2016, LEED Gold. This 27,736-square-foot building houses copier and managed IT service sales and support as well as warehousing space. The building features a variable refrigerant heat pump system with individual controls for each office, controlled lighting and plumbing designed to use 40% less water. NovaCopy also is the first MLGW LEED Incentive recipient to include onsite solar generation, with a 51 kW solar array on its roof. NovaCopy consumes the solar power onsite and sells any excess to TVA (MLGW's power provider) through a Self-Generation with Distributed Power Providers arrangement. The project earned LEED Gold and a $5,000 award.

LeBonheur Children's Hospital Faculty Office Building, 2018, LEED Silver. This 51,787-square-foot building features energy-efficient systems and equipment to reduce energy use by 24%, low-flow devices designed to use 41% less water and building commissioning to ensure systems run optimally, among other elements. The project earned LEED Silver and a $5,000 award.

Crosstown Concourse, 2019, LEED Platinum. By redeveloping the long-vacant Sears distribution facility, the architects, engineers and other project professionals created a vertical urban village within the building's 1.3 million square feet. Crosstown Concourse incorporates measures to yield an anticipated 32% reduction in energy use (equal to $640,000 saved annually) and 40% reduction in water use. As the largest project and the first to earn LEED Platinum status, the building owner earned a $20,000 award.

FedEx Family House expansion/Methodist LeBonheur, 2020, LEED Gold. This 42,661-square-foot expansion added 51 guest rooms and associated spaces, tripling the number of guest rooms for families with children being treated at LeBonheur Children's Hospital. The project included sustainability measures designed to reduce energy use by 24% and water use by 50%, among other achievements. The expansion earned LEED Gold and a $5,000 award.

Universal Life Insurance Building/Self Tucker Architects office, 2021, LEED Gold. In redeveloping the long-vacant, historically-recognized Universal Life Insurance Building, the project team aspired to make this renovation a healthy, responsible and environmentally sensitive project, incorporating efficient systems to reduce energy use by more than 27% and water use by 35%, as well as including recycled products and waste reduction practices. The project earned LEED Gold and a $5,000 award.
The MLGW LEED Incentive Grant is a companion program to MLGW's successful residential green building program, EcoBUILD. Since 2004, MLGW has certified more than 1,000 EcoBUILD homes. EcoBUILD utilizes a voluntary prescriptive list of green building standards—including more efficient materials, emphasis on proper installation techniques and inspections—combined with performance testing, to deliver energy savings of approximately 30%, compared to typical local construction. EcoBUILD can be utilized by any builder, for any floorplan, on any lot in Shelby County.